Climate change
It is our responsibility to consider the physical and investment-related risks of climate change and the transition to a low carbon economy. Companies will need to adapt to changing operating costs and consumer preferences as well as the risks of future government policies, including a carbon tax.
Our infrastructure and property investments may be physically impacted by a warming climate and the increasing occurrences of severe weather events. However, we also know climate change presents investment opportunities in companies that are long-sighted and can take advantage of changes and thrive.
Assets that are resilient to climate risks can help communities better adapt to the changing climate, shoring up long-term investment credentials in the process.
Climate change and our investment philosophy
Our Climate Change Policy details how we integrate climate risk and awareness in our investments and our own operations as a trustee.
We also offer a choice for our members to fully or partially invest their super directly into our Sustainable Responsible Investment Balanced (SRI) option which focuses on sustainable investing.
Our Environmental, Social, and Governance (ESG) policy does not exclude investments that have climate risks, as we consider it to be a systemic and undiversifiable risk. Instead, we continually analyse and assess risks of our investments, including climate risk, to ensure that the investment decisions we make are in the long-term financial interests of our members.
We also believe that by being invested, we can support change. For instance, as an investor in Australian companies, we vote on climate change specific resolutions at those companies' annual general meetings. We consider each resolution put forward and cast our votes accordingly in line with our ESG and Proxy Voting Policy. You can view our bi-annual voting history here.
Equities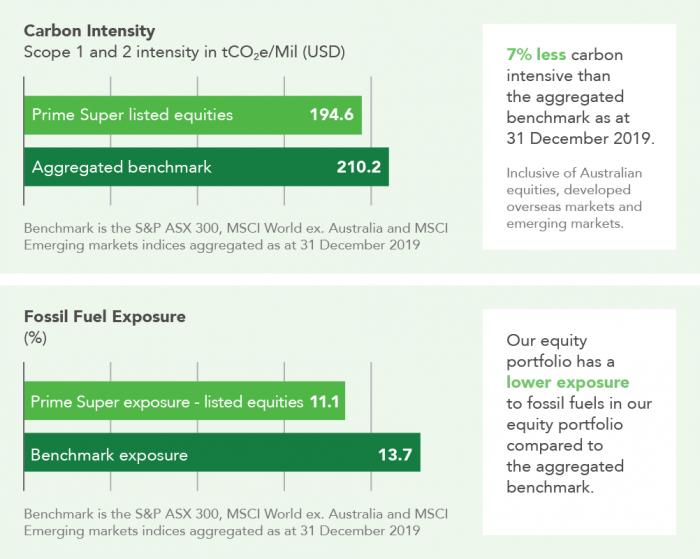 We work with our investment managers to ensure they are considering climate risks in their investment approach. Our investment managers provide us with regular updates on how they engage with investee companies on ESG issues, including climate change.
To further enhance our insights, Prime Super has commissioned environmental data expert Sustainalytics to analyse our exposure to carbon across our entire portfolio of listed equities in 2020. We use this data to consider the carbon footprint of our equities portfolio and how we compare to industry benchmarks.
Benchmark is the S&P ASX 300, MSCI World ex. Australia and MSCI Emerging markets indices aggregated. All data is as at 31 December 2019 and we intend to update this information annually.
---
We will now focus on providing our members with more detailed information on how the value of our listed investments may be impacted as companies around the world adapt to the risks and opportunities of the changing climate.
Property and Infrastructure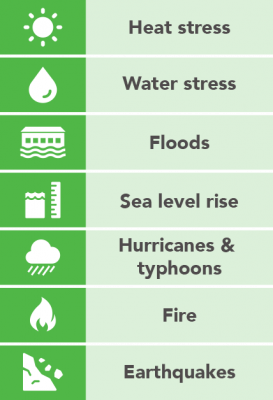 We invest directly in property and infrastructure investments such as toll roads, schools, and wind farms around the world. These investments are at risk of physical damage from the changing climate, such as the increased frequency and severity of droughts, floods, fires, and hurricanes as well as rising sea levels. These assets also have a carbon footprint and we have gathered carbon emissions data for the 2019 calendar year.
We have engaged climate risk experts Four Twenty Seven to assess the resilience of our real asset portfolio to climate risks including heat and water stress, floods, sea-level rise, wildfires, hurricanes, and typhoons. We provided Four Twenty Seven with the location data for 84 of our physical sites and they have scored these sites against a set of climate risks for the decade starting 2040.
At the portfolio level, our assets will be more exposed to the climate risks of water stress and floods over the coming decades. We will now use the more granular scores to develop and strengthen climate risk mitigation strategies to protect the long-term investment objectives of our property and infrastructure assets.